Worship
Worship at MennoCon19 will be slightly different than previous conventions. Junior youth, youth, youth sponsors and adults will all worship together. The Grand Ballroom provides an intimate worship setting, and Seth Crissman will lead the worship band.
Stay tuned! Speakers and more information will be coming as plans are finalized.
Equipping Seminars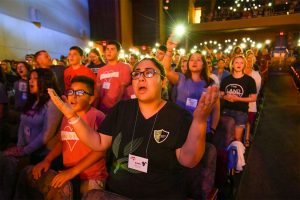 Criteria for Equipping Seminars 2019
The purpose of Equipping Seminars is to equip youth and adults of Mennonite Church USA for witness, formation, discernment, and leadership.
We are looking for equipping sessions that…
equip youth and adults to embody a holistic witness to the life, death and resurrection of Jesus in their daily lives. (witness)
equip youth and adults for formative Christian practices such as Bible study, prayer, worship, hospitality, peacemaking, testimony and nonviolence. (formation)
equip youth and adults to discern a common way of life as a contrast society. (discernment)
equip participants with specific skills needed for leadership roles in congregations, both lay and credentialed. (leadership)
align with the vision of Mennonite Church USA and the Journey Forward Renewed Commitments.
are interactive learning experiences that introduce practical tools, skills, habits or frameworks that participants can take home and put into practice.
appeal to multiple constituencies within Mennonite Church USA.
are led by a person with expertise in the topic.
We are also looking for seminars that can be presented in Spanish or another language.
The seminar committee appreciates all the seminars that have already been submitted. They also noticed some gaps in what has been submitted. This document lists the topics that are missing. Please think about whether you or someone you know might be able to provide equipping on any of the topics on the document. We are welcoming additional submissions until January 8, 2019. Use this form to submit your proposal.