Equipping Seminars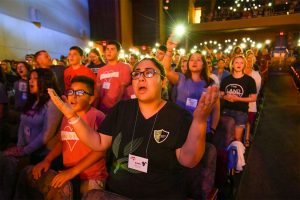 We are pleased to share the list of equipping seminars that will be offered at MennoCon19.
Most youth seminars will be offered twice while adult and intergenerational seminars will be offered once. Youth sponsors, we have several seminars especially for you. Parents are welcome to attend sponsor seminars as well. A Spanish language seminar will be offered after delegate session each of the three full days of convention.
We're pleased to bring you several featured seminar presenters from beyond our church who bring special expertise we think you'll find valuable. These are 90-minute seminars designed to go deeper into topics that are relevant to our discipleship and witness. Click here to decide which ones you'll attend!
Criteria for Equipping Seminars 2019
The purpose of Equipping Seminars is to equip youth and adults of Mennonite Church USA for witness, formation, discernment, and leadership.
We are looking for equipping sessions that…
equip youth and adults to embody a holistic witness to the life, death and resurrection of Jesus in their daily lives. (witness)
equip youth and adults for formative Christian practices such as Bible study, prayer, worship, hospitality, peacemaking, testimony and nonviolence. (formation)
equip youth and adults to discern a common way of life as a contrast society. (discernment)
equip participants with specific skills needed for leadership roles in congregations, both lay and credentialed. (leadership)
align with the vision of Mennonite Church USA and the Journey Forward Renewed Commitments.
are interactive learning experiences that introduce practical tools, skills, habits or frameworks that participants can take home and put into practice.
appeal to multiple constituencies within Mennonite Church USA.
are led by a person with expertise in the topic.
We are also looking for seminars that can be presented in Spanish or another language.